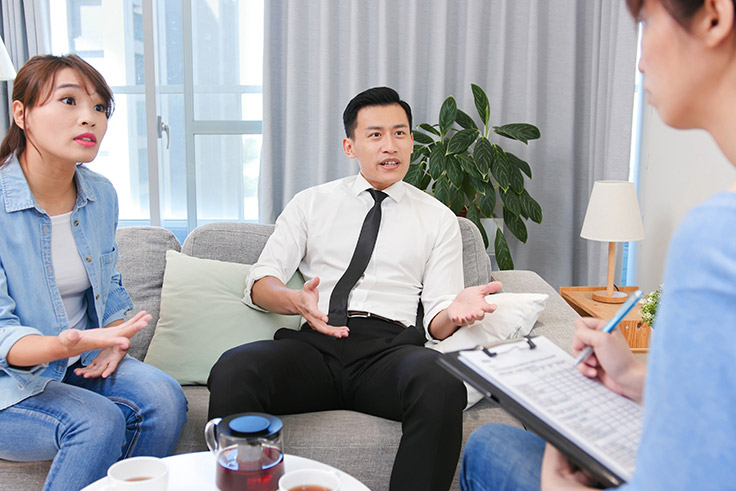 'You always leave your dirty dishes everywhere!'
'You're always nagging me about my mother!'
'Do you remember the last time we went for a holiday?'
'You never help me out at home because you're always too busy working!'
You may have heard your partner saying at least one of these things to you in one way or another during your relationship. You may have even said it to your partner without realising it. Often said impulsively out of anger and frustration, these statements are unhealthy and may give rise to unnecessary arguments.
It is normal for couples, both married and unmarried, to encounter numerous obstacles throughout their relationship. Relationships may not be smooth sailing all the time. On some days, our partner's imperfections are harder to bear, giving rise to misunderstandings, disagreements and an array of negative emotions. While some couples are able to resolve conflicts on their own, others may require some additional support from family and friends, or may even seek external professional help.
Issues Couples Face
Every relationship has its own ups and downs. On some days, it may feel as though the positives in the relationship are diminishing; and the bad are seemingly outweighing the good. This might be due to the following issues:
Sometimes, we assume that our partner will be able to read our mind. We expect them to be able to anticipate or understand our thoughts and emotions without us having to explicitly communicate it to them. This is especially so for couples who have been together for many years – there is a high expectation of being able to understand each other inside and out. When our partners fail to do so, conflicts arise and we often feel disappointed, angry or unloved. Not having an open and effective communication with our partners is a very real problem that can lead to many other bigger conflicts and misunderstandings in the relationship. 
Trust is a vital yet extremely fragile component of every relationship. Trust issues can emerge when there is a lack of communication and transparency between the couple. Not trusting your partner can allow you to engage in destructive habits such as frequently checking your partner's phone, questioning them, doubting them, and feeling constantly or excessively jealous. These habits can give rise to a highly unhealthy and unhappy relationship.
As partners get familiar and grow increasingly comfortable with each other, emotional and physical intimacy may lessen over time. This can happen due to a lot of reasons: not prioritising each other, a loss of desire, feeling bored in the relationship, or even fleeting attractions towards other people. A lack of communication and trust can further worsen intimacy issues or vice versa, further trapping couples in a loop of seemingly endless conflict and misunderstanding. 
Apart from these issues, there are also other signs indicating that you and your partner may need couples counselling. Some of these indicators include:
Negative communication and frequent arguments

Repeated arguments about the same issue

Lying or keeping secrets from each other

Feeling increasingly insecure with yourself and the relationship

Unfaithfulness and infidelity

Lack of physical and/or emotional intimacy

Losing interest in your partner and the relationship
How Couples Counselling works
Counselling for couples provides a safe space where you can feel comfortable talking about sensitive issues that you may be facing in your relationship. Couples counselling also aims to provide a platform that allows couples to communicate with each other in a conducive environment so that you and your partner can discuss practical solutions for the issues faced. Through this, couples will be able to understand each other's perspective and emotions better, enabling you to find solutions that will benefit both parties.  
Ultimately, couples therapy provides you and your partner an opportunity to learn new things about each other and reignite the love and intimacy shared in the relationship.
Extensively trained in the Gottman method, a proven and tested approach to couples therapy, our psychotherapists can help you and your partner work through any resentments and manage conflicts. Eventually, we aim to reignite the respect and admiration that the two of you had for each other. 
In short, the goals of the Gottman Method include increasing closeness and friendship behaviours, addressing conflict productively, and building a life of shared meaning together. The Gottman Method involves customising principles from the research to each couple's particular patterns and challenges. 
At Incontact, our psychotherapists have walked many couples through this journey. Our psychotherapists have specialised training and many years of experience in handling all sorts of issues that couples face. Many of our clients leave Incontact with a happy relationship where there is a strong sense of commitment, appreciation, affection and love for their partner.
We also offer individual therapy for relationship issues if your partner does not feel ready to take up issues as a couple just yet.
Additional Services
Family is a crucial source of support, security and guidance for couples, especially in times of hardship. The challenges that a couple may be facing can give rise to problems in the family that can affect various aspects of all family members' lives, and disrupt the family's mental health and functioning. At Incontact, our family psychotherapists work with families to help break communication barriers – the root cause of conflicts. We aim to proactively heal and strengthen the relationship between family members, improve communication and conflict management to create a better home environment for your family. 
Many of us may feel pressured to live up to traditional societal expectations placed on women that emphasise on domestic capabilities rather than academic and career progressions. Sometimes, we may get too focussed on fulfilling others' expectations of us that there is little to no room left for our own personal needs and interests. These concerns all add up in the long run and accumulate stress in our mind and body, affecting our mental health. These issues that we experience can affect the relationship that we share with our partner. At Incontact, our therapists have vast experience in working with the various different issues that women face. Our therapists, some of whom are wives and mothers themselves, will be able to provide you with relevant and helpful ways to cope with your struggles. 
Men's lives may be packed with a mixture of family responsibilities, career aspirations and personal goals that may be conflicting with one another, causing a great deal of stress, anxiety and/or depression. However, as a result of traditional gender norms, many men choose to suffer in silence instead of seeking help, making their problems grow even bigger. These problems may eventually seep into relationships with others, and can negatively impact romantic relationships. At Incontact, our experienced therapists have worked with a wide range of issues specifically faced by men, and they can provide you with a supportive and safe environment which encourages positive thinking, self-reflection and healthy coping mechanisms.